This One Thing
By Patience Strong
Westward sailed the Mayflower pilgrims to a better law -
Where in freedom they might live - as Puritans to stand -
For liberty of mind and soul, prepared to sacrifice
- all they had for this one thing: the pearl beyond all price ...
Thus did they fulfill the Jacobean prophecy -
That the sons of Joseph in the course of time should be -
Two great nations working out God's plan from age to age:
Ephraim and Manasseh, heirs to Israel's heritage.
Our Anglo-Saxon ancestry - the bond of blood we share -
Is this secret and the strength of this our common prayer:
Forgive us our iniquities as we in patience -
Ask a blessing for ourselves and our inheritance.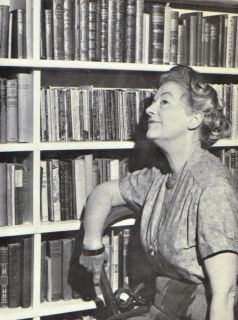 Patience Strong (1907-1990) (born Winifred Emma May) was one of Britainís most famous poets of the 20th century. She was also well known for her Christian-Israel faith. From 1935-1946 Strong had a poem a day in The Quiet Corner in The Daily Mirror, the British tabloid which is supported by the Labour Party. From 1946 her column was transferred to the Daily Pictorial (later The Sunday Mirror). Strong also wrote poems to the weekly magazine Womanís Own and to This England. Her lovely and inspiring poems have additionally been printed in books, magazines, wall calendars, greeting cards, place mats, and porcelain ornaments. Patience Strongís poem Jealousy was recorded by a number of artists, including Hutch, Gracie Fields, Vera Lynn, Richard Tauber, and Billy Fury.